How to Instantly Brighten your Home with Sunrise Decals
I don't know about you, but for me - there's no better feeling than the warmth from the sun's rays on your back. Here in snowy Helsinki I'm having a bit of summertime nostalgia, dreaming of swimming in the sea, and lazy days reading books in the garden. So, I thought I'd write a bit about our most summery sticker - the big rising sun! 
Since first launching in June, it's quickly become one of our most popular decals, and sparked the creation of a whole family of sunny stickers. Big, small, pink, yellow, personalised or not - we've got it all (or at least quite a few). It's one of my favourites, and why wouldn't it be? It's so hard to look at a sunrise and not catch yourself smiling.
We think that another reason that our customers seem to love this product as much as we do is that it's such a dream to install. With few parts and easy guides to help with installation it goes up in minutes, adding instant beach vibes to your interiors. 
How to Position Rising Sun Decals
For me, the beauty of this sticker is that it suits all sorts of interiors, and can fit in many rooms. The straight edge at the base means that it fits well along wall or furniture edges. Below are some examples of ways to transform your room with our sunny stickers with some of my favourite photos from our happy customers (and some of our own images): 
Above the Crib
Liz Teich (@thenewyorkstylist) and Kolbie Nguyen have opted to add a pop of colour and texture to their babies' cribs with the big yellow and small yellow rising suns respectively. 
Did you know that we also offer personalisation on all of our suns? Here's another example of how Brooke has used her decal above the crib.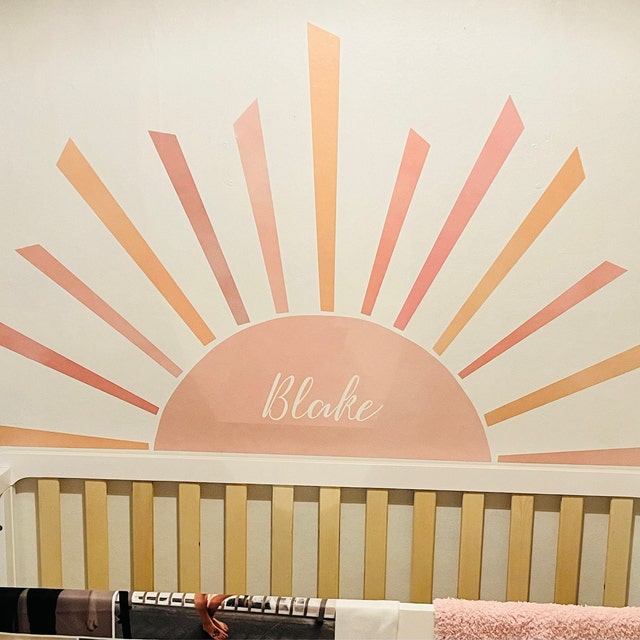 Above furniture
Of course, you don't need a nursery to bring sunshine into your home! These wallpaper stickers can look just as good behind a dresser or cabinet in any room. Here's how Lindsay did it with her pink sun: 
On the Floor
Don't have straight edged furniture big enough? No worries, the big sun looks fantastic all on it's own along a skirting board. The bright colours and subtle texture in this decal means that it can give life to a room all on it's own. Here, Rachael (@nerdfish) has transformed an otherwise totally plain wall with the big sun.
Upside down?
And finally, our new favourite way of installing the sun - and one we never would have thought of ourselves: upside down! 
It always brings us such joy to see you using our wall stickers in creative ways that even we would never have thought of, and Lily has really wowed us here! It's so good that we just had to try it ourselves.  
Your Turn
I hope that all of these examples have shown you why I love this collection so much, and convinced you to invite these rays of sunshine into your home. Why not try it out? If you do, please send us a photo or tag us on instagram - we love to see how you use our decals in your interiors!